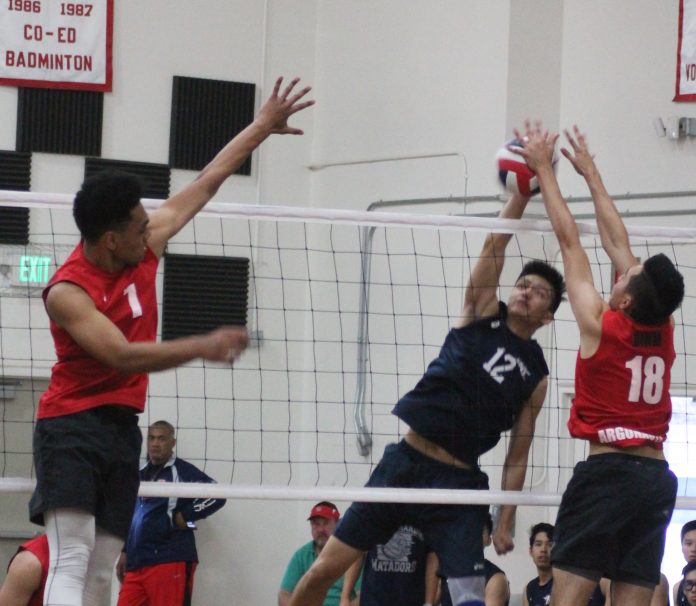 The Bolsa Grande High boys volleyball team swept Garden Grove High in three sets to set itself up for at least a second place finish in the Garden Grove League.
The Matadors took the match at Garden Grove High by scores of 25-18, 25-17, 27-25.
After closing out the first two sets with strong finishes, it appeared the Matadors might put away the Argonauts handily in the third set.
Bolsa Grande jumped out to a lead of 12-6 before the Argonauts regained some momentum.
Long Tran got the Argonauts back on track with a tap over blockers for a point to cut the lead to 12-7. A couple of points later, Janson Nguyen put a kill through two blockers to pull the Argonauts to within two, at 12-10.
The two teams then exchanged three-point runs. Khoa Pham put down a first-hit kill on an overpass by Garden Grove defenders that put the Matadors up 14-10. A Garden Grove misplay put the Matadors up 15-10 before the Argonauts answered with three straight points to close the gap to 15-13.
Late in the set, the two teams exchanged several clutch plays in a long rally that ended with Garden Grove's Andrew Nguyen getting the point with a kill off a tip. That point made the score 21-19 for Bolsa Grande.
Bolsa Grande then scored two points. An Le and Michael Luong each had a kill to extend the Matador lead to 23-19, as Bolsa Grande looked to close out the match.
But the Argonauts rallied one more time. Long Tran had a kill to cut the lead to 23-20. A net violation and ace serve cut the lead to 23-22 and Janson Nguyen tied the set at 23-23 with a kill off a block.
With the set tied 24-24, Jimmy Nguyen had a kill for Bolsa Grande to put them up 25-24. But Fitu Lupematasila answered with a kill to again tied the set at 25-25.
However, Jimmy Nguyen and Max Wilcox would each get kills to close out the match with a 27-25 win.
The Matadors improved to 7-2, while Garden Grove dropped to third place in league with a 6-3 record.
La Quinta came into this week in first place at 8-1. La Quinta was scheduled to play at Garden Grove on Tuesday (May 2) while the Matadors closed out the regular season at Santiago on Tuesday (both games were after press time).
Although the standings are still in flux, all three will be entering the CIF-SS Division 4 playoffs. In last week's CIF-SS poll, the Matadors were ranked No. 5, while La Quinta was in the No. 8 spot. Garden Grove received votes, but was just outside the top 10.