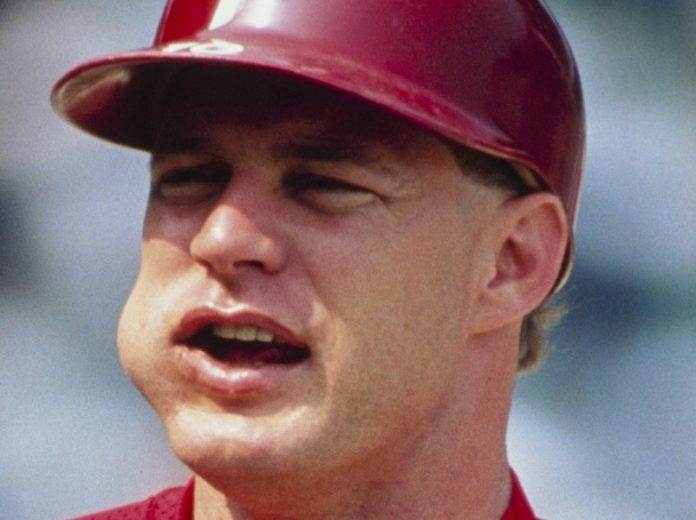 BY BRADY RHOADES: Garden Grove native and former New York Mets and Philadelphia Phillies star Lenny "Nails" Dykstra keeps getting hammered by the law.
Last week, Dykstra, who starred for the Mets and Philadelphia Phillies in the 1980s and 90s, was arrested in New Jersey and charged with making terrorist threats and drug possession.He was released from jail and is due in court in June.
The arrest was made after Dykstra allegedly threatened an Uber driver's life after the driver refused to change Dykstra's destination. The driver, who pulled over and fled from the car, claimed Dykstra put a gun to his head.
When police investigated, they found cocaine, Ecstasy and marijuana among Dykstra's belongings. They did not find a weapon.
Dykstra has made no official comment on the incident, but after his release on May 23 he tweeted or retweeted more than 100 times that day, including this lyric from a Teddy Pendergrass song:"You got bad luck. That's what you got, that's what you got."
He also responded to a fan with this tweet: "Reminds me of some lyrics I left out. 'Oh, what a niiiight.' – New Jersey's own @frankievalli and the @FourSeasons."The Uber driver told police he had picked up Dykstra in Linden for a scheduled fare. Dykstra tried to change the destination, and when the driver refused, Dykstra allegedly put a weapon to his head and threatened to kill him, police said.Dykstra denies threatening the driver. He told police the driver went berserk for unexplained reasons and was driving 100 mph at one point, sparking an argument.
This is not Dykstra's first run-in with the law. Since retiring, the 55-year-old was sentenced to three years in prison in 2012 for grand theft auto and filing a false financial statement. He served six and a half months of his sentence. His post-baseball troubles also include bankruptcy and a trip to rehab.
Dykstra published his autobiography, titled "House of Nails: A Memoir of Life on the Edge," in 2016.
Dykstra, who starred at Garden Grove High School, where he was so obsessed with baseball that he'd wear his uniform to school, won a World Series with the Mets in 1986 and made three all-star teams as a member of the Phillies in the 1990s. He has a career batting average of .285. His hard-nosed play, a style some likened to Pete Rose's, earned him his nickname.