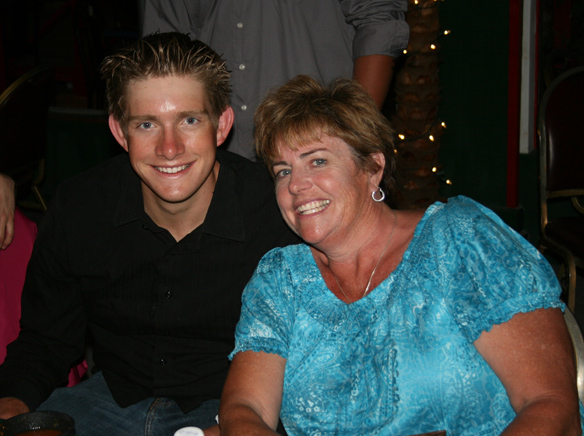 When Robert Sittman told his mom that he was going to raise $10,000 to build a house in Mexico, she thought he was out of his mind.
When Robert Sittman told his mom that he was going to raise $10,000 to build a house in Mexico, she thought he was out of his mind.
Considering the current economic situation, she was hesitant to join him in an attempt to complete a project of this magnitude.
"I'm going to do this with or without you," Sittman said to her.
His mom, Delight, did not agree to support the project at first, but after telling her co-workers at Keller Williams Reality in Los Alamitos about the project, they started giving her $25 donations and her heart was softened to the idea.
The Mother/Son combination worked from January until May to plan, organize, and fundraise money for this humanitarian effort. Within these four months, there was not a day that went by that mother and son did not do something to propel this project forward.
"It wasn't always easy, but in the end, it was worth it for the Velasquez-Torres family," Sittman said. The Velasquez-Torres family were the recipients of the new house that was built in Puerto Peñasco, Sonora, Mexico.
Throughout the whole project, Sittman was also completing his final semester at Arizona State University. The construction of the house began on May 4, exactly one day after he walked across the stage in his cap and gown. Sittman organized 18 volunteers to assist in the construction of the house. The volunteers worked diligently throughout the weekend of May 4. They were comprised of members from Seacoast Grace Church in Cypress, The Catholic Church, and The Church of Jesus Christ of Latter-Day Saints.
"This was not a church sponsored event, but rather an act of kindness that was inspired by our faith," Sittman said.
The mother and son duo plans on completing future projects in Puerto Peñasco. Sittman has big plans to begin a two-year ministry in the state of Washington for the Church of Jesus Christ of Latter-day Saints.
He is scheduled to begin his mission on Aug. 29 at a Missionary Training Center in Provo, Utah. Lucky for him, he will be learning Spanish, which will assist him in future missionary efforts in Mexico, Southern California, and wherever else the Spanish language is spoken.
"It will be a long time before I go back to Mexico, but the people in Mexico will always be in my heart," Robert said.
As for Delight, she will continue her work in Puerto Peñasco by collecting food, clothing, and children's toys for the many organizations that she visits during the year. Among the many groups that she helps in Mexico are the following: Esperanza Children's Home, Two Fish feeding ministry, Casa Hogar rehabilitation center, and Amor Ministries.
The ministries that she supports in Mexico cater to the elderly, the homeless, the hungry, and the parentless. She is even known to visit the local dog shelter and purchase food for the shelter when they are running low. Delight does not only help people in Mexico, but she also helps out locally.
She partners with a local church in Long Beach to provide hot coffee for people living on the street.
"The coffee isn't much, but if it will brighten their day a little bit, it is worth the effort," Delight said.
She began her effort by raising enough money to purchase a coffee maker and three month supply of coffee, creamer, and sugar.
Since then, she has continually found a way to supply that community with coffee since she started about five years ago. Delight also donates her time by being a highly active member of the Cypress Women's Club and KW Cares.
Despite being a mother of two and a full time sales agent, Delight still finds time to make service to other's a priority.
Delight's husband, Robert, also donated his time in helping with the construction of the house in Mexico. Nicole Sittman, Delight's oldest daughter would have joined the family too if she had not been finishing up a Master's program at the University of Pennsylvania.
After her graduation in May, Nicole began a volunteer internship down in Chile for the United Nations Educational, Scientific and Cultural Organization.
Delight and her family have lived in the city of Cypress since 1989.