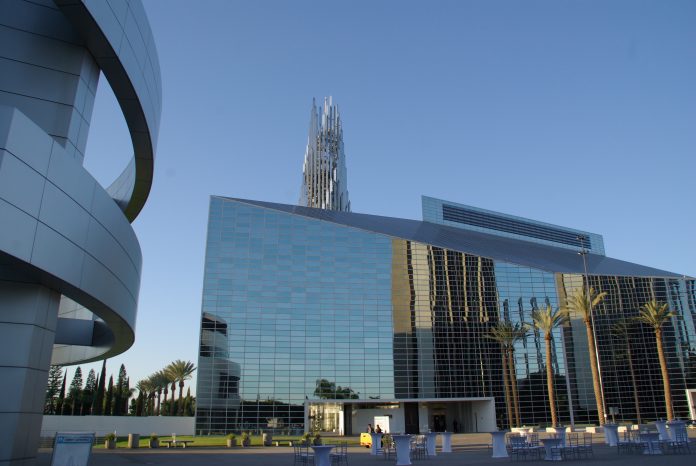 By Loreen Berlin
Christ Cathedral in Garden Grove, famous as the late Rev. Robert Schuller's Crystal Cathedral, has completed a major interior renovation to accommodate Catholic worship.
The exterior of the buildings — iconic — remain pretty much the same.
"The exterior of the buildings has not been changed in order to recognize the iconic nature of the edifice Rev. Robert Schuller originally had constructed," said St. Pius V parishioner Patrick Donnelly.
The bell tower, for instance, is functional for the musician to actually climb up to  the top of the tower, on stairs attached to the building, in order to "ring the bells" with hands and feet on pedals.
The interior, however, has been completely remodeled. And you have an opportunity to see it for yourself.
From 5 to 8 p.m. today (Wednesday, July 17), Christ Cathedral, ADDRESS, will be open to the public for visitation.
Following the dedication events, the Cathedral will be open only for the Saturday Vigil Mass and Sunday Masses until the Hazel Wright Organ is fully installed and voiced, with daily openings taking place in February of 2020. At that time, regularly-scheduled tours will be held.
The Very Rev. Christopher H. Smith, Rector for the Diocese of Orange, said that soon after he was named Rector of Christ Cathedral, he had the opportunity to meet Rev. Robert H. Schuller and to hear Schuller express gratitude that, "Thanks to the Catholic Church's purchase of the Crystal Cathedral, it will remain a place for Christ Forever."
Rev. Smith said that since meeting Schuller, "For Christ Forever" has been the motto and inspiration for those who were tasked with transforming the iconic house of worship and the serene grounds into Christ Cathedral, "now a West Coast center of Catholic worship and the seat of the Bishop of Orange."
Donnelly shared some other interesting history. Members of the Crystal Cathedral expressed concern that not only was their church was being sold but especially that the Catholic Church was purchasing it.
"On the Catholic side, some people were upset that Catholics were moving into a Protestant Church; Bishop Kevin Van said he wasn't aware of that being done before. However, many of the Cathedrals in European history were taken over by protestant sects. Westminster Abbey comes to mind," Donnelly said.