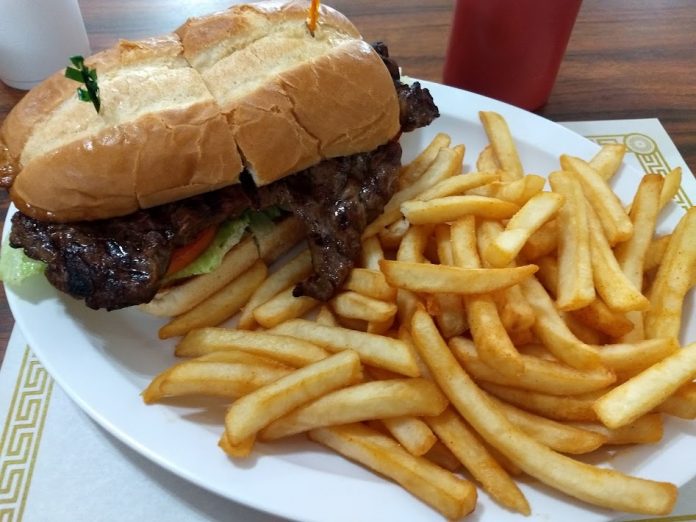 By Steve Lanzi
The Fast Foodie
Some weeks ago in this column, the Foodie praised the independent eateries that, decades ago, made fast food what it is today.
Everywhere you eat had to start somewhere, and Ground Zero must have wowed its customers with amazing atmosphere, a marvelous menu and superior savories, sweets and service.
But while franchising opportunities might have appeared to them sometime in the past, other outlets choose to stay small and local, never opening more than one or a handful of eateries. They're often run by people with true passion for serving great food at a fair price, and sharing it every day with appreciative patrons.
Harry's Place at 7181 West Garden Grove Blvd. in Garden Grove is an example. Placed at the corner of Knott/Goldenwest and Garden Grove Boulevard, I don't know when it first opened but the homey décor gives me a late-70s/early-80s vibe, and the menu reflects that era as well. Burgers, breakfasts, sandwiches, salads, "South of the Border" specialties, it's all there.
The first thing that hits you when you walk into Harry's — they have no drive-thru — is the smell of their steaming hot grill, right behind the register. I can't remember ever experiencing that anywhere before, and it promptly announces to you, "fresh, hot and tasty."
Happy to say, the food backs up your expectations. If I had to explain Harry's approach in one word, it would be: straightforward. The breakfast items like eggs, pancakes, sausage and bacon are classic American. The burger was an intriguing mix of the flavor of In-N-Out's burgers, with the charbroiled character of a Carl's Jr sandwich.
Then there was the steak sandwich. Again, straightforward is the best way I can describe it. It's an actual charbroiled steak, just above a quarter-inch thick, on a toasted French roll with lettuce, tomato and mayo. That's it, that's all, and it was quite satiating. I ended up taking home half of it for late-night leftover snacking.
Another thing that struck me about Harry's is their menu variety. I've only been able to sample three of their options, but they feature a fortune of foodstuffs. We'll have more on Harry's Place in future installments of The Fast Foodie.
Back to the behemoths.
The Stanton area was blessed with a location of legendary fried chicken fingers franchise Raising Cane's about a month ago, at 12775 Beach Blvd.
Like every other Cane's I've visited, the lines are long but service is super-efficient, the menu is simple and short (just variations of their fingers, fries, coleslaw and drinks), and the chicken is probably the most juicy and tender of any franchise in the U.S.
But their secret weapon is the Texas Toast, so crisp, soft and gingerly seasoned with garlic. Yum!
Merry Christmas, happy holidays, and please send your feedback to fastfoodieWHJ@gmail.com!