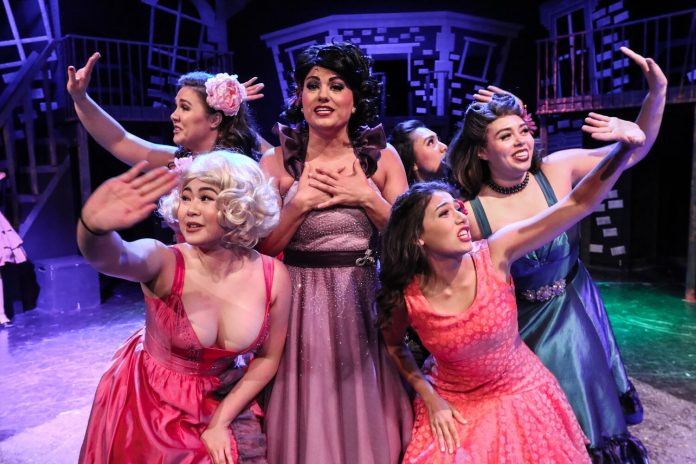 By Angela Hatcher
From the first few rhythmic snaps of a finger, Bernstein and Sondheim's unforgettable musical score colors outside the lines and melodiously paints the canvas with one of the most timeless moments ever to grace the stage.
"West Side Story," an adaptation of Shakespeare's Romeo and Juliet, made its debut nearly 62 years ago, but its story is as relevant in today's world as it ever was, and as One More Productions' Co-Founder/Director/Musical Director Damien Lorton tells us, One More Productions is committed to telling the story honestly, truthfully, and without filters.
It is the summer of '57, somewhere in an Upper West Side New York neighborhood (and the term is used loosely) where tension and teenaged angst is sensed from the moment this enthusiastic and uber-talented cast hits the stage.
The methodically choreographed and well-executed song and dance number, "Prologue," marks the beginning of what's to come, the tone is set, and a battle seems evident.
War has begun between the two gangs who "own the streets," the white American "Jets" and the Puerto Rican "Sharks."
The idealistic and star-crossed young lovers, Tony (Brandon Taylor Jones) and Maria (Erika Baldwin), are caught between these two worlds of hate, violence, and prejudice. In the central role of Tony, Jones delivers an amazing performance that brilliantly offers passion and a more fragile and naïve quality that separates him from his life of gangs, and in the end, this becomes Tony's one tragic flaw.
Opposite him is Maria, portrayed by Erika Baldwin, who helps to elevate this production to new heights, well beyond its grand scale, while also maintaining its intimate appeal.
Baldwin's strength is her ability to retain an adolescent and angelic innocence while balancing that with her incredible soprano vocal skills.
OMP Co-Founder and Producer Nicole Cassesso's portrayal of Anita is intelligent and intense. Her drugstore scene, in which she is sending a message, is ineradicable, and her singing and dancing skills are phenomenal.
Supporting role standouts are: first and foremost, Danny Diaz as Bernardo, Race Chambers as Riff, Richards Ullrich as Doc, Jon Mitchell as Schrank, John Gillies as Officer Krupke, and Simon Hedrick as Glad Hand.
Under Lorton's baton, OMP's Orchestra features Toni Helms on keyboard No. 1, Blake Leigh on keyboard No. 2, Nic Gonzalez on bass, Jeff Segal on drums, Doug Jones on trumpet, Vince Hizon on woodwinds, and Jesse Tellez on trombone.
This fiercely energetic production is as much a dance show as it is a music show and OMP is fortunate to have choreographers, Heather Holt-Smith, Alan Collins, and Shauna Bradford onboard.
Wally Huntoon's set design is award-winning worthy, and Mendenhall Productions did an amazing job of lighting and set construction.
Outstanding musical numbers include "Something's Coming" by Tony.
What gives this show its valued longevity is not merely its unsettling initiative towards social contention, racial discrimination, and national identity, but also, West Side Story's channel for the commonality of inclusion, which is vastly evident in its final scene.
 "West Side Story"
The Gem Theatre
12852 Main St., Garden Grove
Phone: 714-741-9550, ext 221.
Website: www.info@onemoreproductions.com
Runs through Sunday, Aug. 11