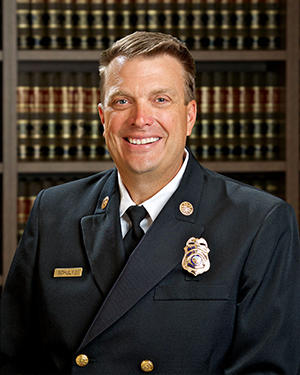 Garden Grove Fire Chief Tom Schultz will retire, effective Friday, Sept. 14.
Schultz has notified City Manager Scott Stiles of his decision. He will serve as temporary chief until the end of the year, when a City Council decision is expected on whether to retain current city fire services or eliminate the department and contract with the Orange County Fire Authority.
"It's been my deepest privilege to serve and protect Orange County for 34 years," Schultz said. "This is an amazing community that has shown me their care and support since Day 1… I feel this is a good decision and the right time to retire. I believe that together, we've made things better and made many great accomplishments, such as improving firefighter safety, service delivery to our citizens, and adoption of best industry practices. My family has been instrumental in helping me make this important decision."
"I have the highest of commendations for the quality leadership Chief Schultz has provided for the Garden Grove Fire Department," said Stiles.
The announcement comes as the city grapples with budget problems that have led to Measure O, a proposed 1 percent sales tax increase that will appear on the Nov. 6 ballot. City officials have said raising the local sales tax from 7.75 percent to 8.75 percent will generate enough revenue to continue funding public safety services at levels residents are accustomed to.
Under a proposal to contract fire services with the Fire Authority, the city would save money, a high level of fire services would be maintained, and most of the current fire personnel would retain their jobs with the authority, officials have said.
According to Garden Grove Human Resources Director Laura Stover, Schultz will continue to perform his fire chief duties as a retired annuitant, at the same hourly rate he currently receives, and will not receive pension or non-hourly rate benefits. Under CalPERS requirements, he cannot serve for more than 960 hours in the fiscal year (July through June).
Schultz joined the City of Garden Grove on April 29, 2015, following a 30-year career with the Fullerton Fire Department.