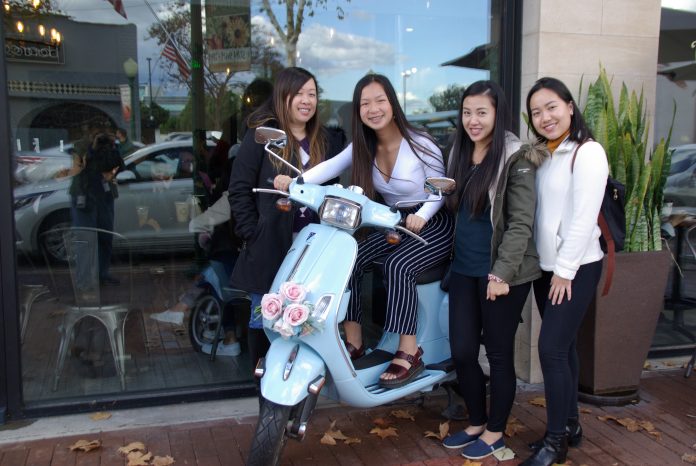 There was "Black Friday" shopping throughout Orange County on Friday, Nov. 29, at a wide variety of stores.
It was also the annual kick-off day of Garden Grove's Buy in Garden Grove "BiGG" program.
From now until Friday, Dec. 20, for every $50 spent at any Garden Grove business, shoppers have an opportunity to win. Participants must be at least 18 years of age and make purchases in Garden Grove, including restaurants, gas stations and grocery stores.
Eligible receipts must be dated from Friday, Nov. 29 through Friday, Dec. 20. Then, take the receipts to the Garden Grove Chamber of Commerce office, 12866 Main St., Ste. 102, on Historic Main Street near Acacia Parkway before 5 p.m. on Dec. 20.
Regular chamber hours are Monday through Thursday from 9 a.m. to 5 p.m. and Friday from 9 a.m. to 4 p.m.. The office is closed Monday through Friday from noon to 1 p.m. for lunch and does close early for chamber events within the community.
For every $50 in total register receipts, participants receive one opportunity-drawing ticket and if purchases are made from a BiGG business or a Garden Grove Chamber of Commerce business member, shoppers receive an additional ticket.
There is no limit on the number of raffle tickets shoppers may receive for their qualifying purchases. All opportunity-drawing tickets are only given out at the chamber's office, not at any of the local businesses.
By shopping at Garden Grove businesses who are participating in the BiGG program, then saving and turning in receipts from those  local businesses, some lucky winner will win $500 in cash or a one-night stay at the Great Wolf Lodge Southern California, located in Garden Grove.
To locate participating Garden Grove businesses and Chamber of Commerce member businesses who are  participating in the BiGG program, visit the chamber's website at staff@gardengrovechamber.com or call 714-638-7950.
Black Friday on Historic Main Street in Garden Grove was a hub of activity not just for shopping but for friends to gather at restaurants and enjoy beverages and food, while enjoying laughter and sharing memories.
Four young ladies said they had coffee together at the Phin Smith Cafe, 12921 Main St., then decided to try sitting for a photo on the turquoise Vespa out front of the cafe. The cafe uses a traditional Phin-dripped method (a real Vietnamese coffee) that they say is the authentic Caphe Sua Da made with imported real Robusta and Arabica beans, along with Charcoal Lattes and their take on a traditional Americano coffee/
It's interior design is a type of museum of  rustic Saigon, which draws all ages to sit and enjoy one-another's company while dining at small tables surrounded with plenty of seating.
And, to add to the hustle and bustle of Historic Main Street, was the weekly Friday-night Vintage Car Show, that has been in place for 25-years. All cars had to be moved off Main Street by 3:30 p.m. for the 4 p.m. start time of the Car Show.
Dianne Bain, who is in charge of the Car Show, said she had time to do "Black Friday" shopping before the Car Show began at 4 p.m., especially to get prizes for the Car Show at both Target and Best Buy.
"That's all the time I had," she said. "Bring your ride — all makes, models and years of cars and cycles and imports too."
For Car Show participants, each owner receives a red ticket for a drawing for 10-percent off their food bill at Azteca Mexican Restaurant, Kay's Kitchen and Louies' on Main Street.