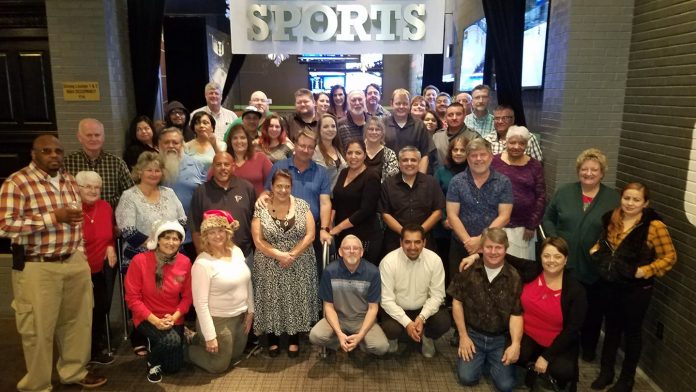 Pacific Coachways Charter Services, Inc. of Garden Grove celebrated 30 years of business on July 1.
The motorcoach company was started on July 1, 1989 by two men, Tom Giddens of Los Alamitos and Val Fleming (formerly of Garden Grove). The company started out in 1989 with four MCI motorcoaches, a name and two proud owners. When Giddens and Fleming took ownership of the buses, they had nowhere to park, so they moved them from a church parking lot in Cypress to behind a department store, to several parking lots in Orange County, until finally they rented space from another bus company in Anaheim.
After a few months in Anaheim, they rented four parking places from a construction company off Cerritos and Bloomfield in Los Alamitos. For almost two years, phones were answered in the home offices of Tom and Val.   Finally, in 1995, Pacific Coachways moved to its current location in Garden Grove on Markon Drive. In 2000, Val Fleming left the business to pursue other occupations and now the company is run by Tom Giddens and his son Michael.
Pacific Coachways in 2019 has 18 coaches, one mini-coach and six school buses ready to serve the surrounding community with qualified transportation.  The business employs 45 people, including of course highly-trained motorcoach operators, a knowledgeable sales department, dispatch operations, safety personnel, mechanic/technical engineers, bus washers and administration personnel.
Every employee is viewed as an asset to the company and essential in making the company the success it is today. Pacific Coachways is known for providing excellent transportation to many local schools, churches, universities and colleges, travel companies as well as individuals wanting to take 25-56 of their closest friends out for a night of fun!
Pacific Coachways is considered a family business and employs Tom's wife Connie Giddens in the accounting department and Michael's wife Jennifer Giddens as one of the awesome sales representatives. Michael and Jennifer's 4-year-old daughter, Hannah, loves her Daddy and Grandpa's buses.  Who knows, maybe she'll be the CEO someday…
A party to celebrate the 30-year anniversary was held at the facility on July 10, 2019.
The Giddens Family were very happy with how much support was shown by everyone who attended the party. They also know that without excellent employees and loyal customers, the success of the company would not be what it is today.