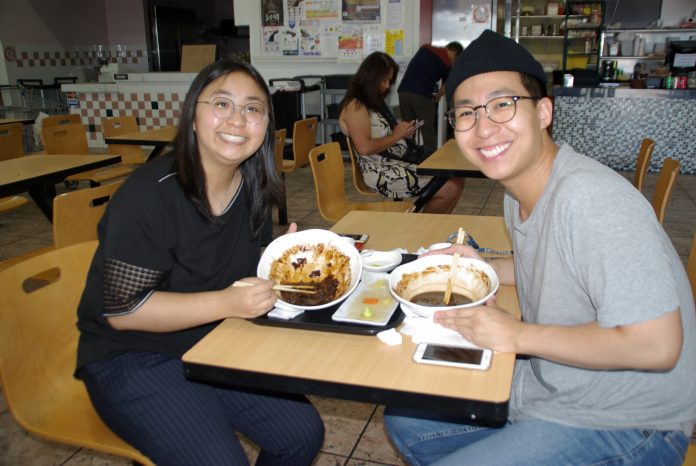 By Loreen Berlin
Driving on Garden Grove Boulevard between Beach and Brookhurst, the city suddenly changes for the next two miles.
Right in the middle of Garden Grove is a hidden cultural jewel .
Welcome to Koreatown.
According to Ho-El Park, president of the Korean American Chamber of Commerce of Orange County (KACCOC), businesses have established themselves and have thrived in Koreatown of Garden Grove for the past four decades.
Koreatown features a plethora of Korean restaurants, beauty-related shops, beauty schools, financial service firms, Korean markets, law offices, Real Estate offices, accounting firms and automotive services.
Park noted that people of all ethnicities patronize the Korean shops.
"A lot of Vietnamese patrons eat in our restaurants and shop in our area, too," Park said.
Garden Grove is home to what is widely considered Orange County's original Koreatown, dating to the 1970s. Back then, Garden Grove was considered a hipster place when it came to Korean barbecue. Nowadays, you can find splendid Korean restaurants all over Orange County.
But if you want the best stuff, you might want to check out the Korean Plaza and other areas of Koreatown featuring some of the best Korean restaurants in the country, including Mo Ran Gak, New Seoul BBQ and Jang Mo Gip.
Care for brisket, pork belly, cold noodles, rice cakes?
Koreatown is a must-see.
This is Park's second year serving as the Chamber president.
"In early 2000, two monument-signs were erected in the center-divider along
Garden Grove Boulevard," he said. "The name of the area was changed by City Council this year to officially be Koreatown."
Park said that membership in the chamber is composed mostly of Koreans but is open to anyone.
"Anyone can join; currently we have 35-board members overseeing KACCOC and the membership," he said.
The 35th Korean Festival, aka "Arirang Festival," which is in its early-planning stages, is set to be held this year from Oct. 3 through Oct. 6.
The Arirang Festival began about two decades ago; however, it's now run independently by the Korean Festival Committee of Orange County.
The Festival is a weekend to celebrate and share the Korean culture with the
community, which includes Korean music and performances, along with an open-air market that features many booths, a talent show, singing and contests.
It has been suggested that the way to learn about a country and its people is through their food, and Korea has an amazing barbecue, fresh off the grill. You can also enjoy Korean soul food: spicy rice cakes and dumplings.
Food and music can connect different peoples of the world; Korean skincare productsmand services are also booming and are widely recognized.
Many Korean stores and shops have signs in both English and Koreanm (AKA "Hangul").
For information about the Korean American Chamber of Commerce of Orange County, contact info@KACCOC.com or call 714-638-1440.