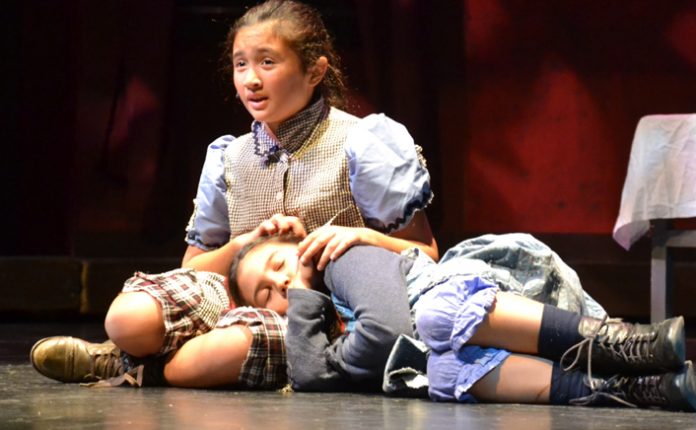 The Rose Center Theater's Rose Kids proudly presents "Annie Jr.," an adaptation of the sentimental classic that is brimming with positivity, optimism and hopefulness in spite
of tough times and what is recognized as a real "hard knock life."
The Rose Center Theater's Rose Kids proudly presents "Annie Jr.," an adaptation of the sentimental classic that is brimming with positivity, optimism and hopefulness in spite
of tough times and what is recognized as a real "hard knock life."
Under the direction of Vincent Aniceto, Annie (Olivia Aniceto – yes, they're related) is not the traditional, curly-haired redheaded moppet from Harold Gray's early newspaper comics, but instead, an endearing and plucky little long-haired brunette with enough spunkiness to rival any other dream weaver or messenger of hope.
Although Annie Jr. is a shortened version of the original musical, all of the elements that make this timeless depression-era tale relevant remain intact, and the enchantment of Strouse and Charnin's original iconic music continues to delight audiences of all ages. What is particularly appealing is that the Rose Kids' young voices collaborate beautifully, and they grace the stage by creating one nice sound in the ensemble numbers, "N.Y.C." and "Tomorrow."
A hands-down favorite number is Rooster (Austin Schulte), Miss Hannigan (Marisa Imbroane/Annalise Fox), and Lily St. Regis's (Bailee O'Connell/Brenna Donovan) deliciously sleazy song and dance number, "Easy Street" (While there are dual casts in this production, on the evening of this review, Marisa Imboane portrayed the villainous Miss Hannigan and Bailee O'Connell portrayed Rooster's pretty airheaded girlfriend, Lily).
As the character, Star-to-Be, Cassidy Love is a stand-out with pitch perfect vocals in her solo performance within the ensemble piece, "N.Y.C."
The story itself is about Annie, an orphan who embarks on a runaway journey to find her long lost parents. She doesn't get very far at first, but while back at the orphanage, good luck finds her.
She is chosen to spend a fortnight in billionaire Oliver Warbuck's (Damon Williams) mansion, she thwarts the conniving Miss Hannigan's plans and shenanigans, and she gains a new companion, a lovable mutt she names Sandy.
As Annie, Aniceto is feisty, energetic and professional. She doesn't miss a beat while gracefully attempting to corral a strong-willed fluffy dog that definitely has a mind of his own!
Lieutenant Ward (Riley Hayward) also manages to keep his cool as Sandy the dog misses his cue and hastily skedaddles off stage – causing a wave of uproarious laughter from the audience. It's easy to get caught up in Annie Jr's spell because it is a magical tale that is bubbly, upbeat, and endearing to all.
Collectively, the show is a hit, and while this is not a show filled with flawless performances, it is truly a show filled with a great deal of heart. The rousing audience applause says it all, and The Rose Center Theater's Annie Jr. is perfectly charming. Lighting and set designer Chris Caputo's interior design of Warbuck's elaborate mansion is strikingly designed and beautifully decorated – from the twin staircases
and pillars, to the wall-to-wall bookshelves, to the old-fashioned Christmas tree.
No matter how bleak tough times may appear to be, Annie is here to remind us that the
sun will come out "Tomorrow," and with her sunny disposition and determination,
she makes believers out of everyone.
"Annie"
Rose Center Theater
14140 All American Way
Westminster
Phone: 714-793-1150, ext. 1.
www.rosecentertheater.com
Runs through Nov. 16