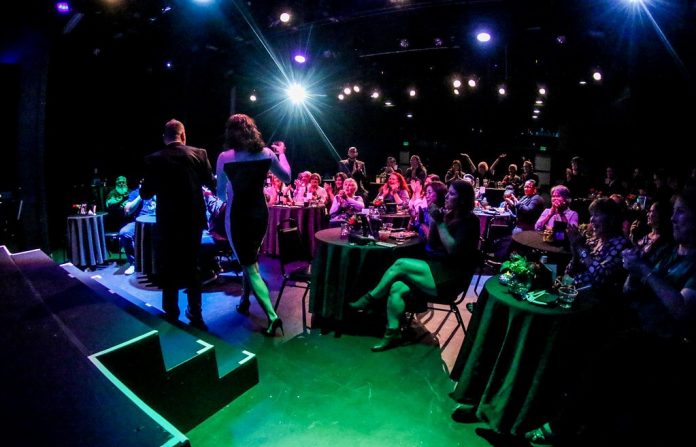 By Angela Hatcher
One More Productions' co-founders, Damien Lorton and Nicole Cassesso took to the Gem Theatre stage last weekend, and although the talented duo has been producing live theater in Orange County for 15 years, this was the first time they had performed onstage together.
Nicole quipped that they had only had one rehearsal and that they had just "thrown the show together," so she suggested that the audience "lower their expectations," which caused an uproarious response from the enthusiastic crowd.
Damien talked about his first role as the Bee in Winnie the Poo in 1978. His mother had made his costume and he said that he wore a yellow T-shirt and had a rolled-up newspaper taped to his (bee-hind).
Nicole told stories about having a paint brush in one hand (painting a set) and a hair dryer in the other.
The opening number of the evening was a duet rendition of "There's No Business Like Show Business." Damien shared that the two met when Damien was at Newport Harbor High School teaching a master class in theater and Nicole was one of his students. She auditioned and he said that the first word he ever said to Nicole was, "Next!" They later became pals when he ran Costa Mesa Playhouse, and they have now been fast friends for the past 20-plus years.
Nicole sang Fats Waller's and Andy Razaf's "Keeping' Out of Mischief," from Ain't Misbehavin' and she disclosed that this was the first song Damien ever taught her. Nicole talked about the 2011 electrical fire at The Gem that was a part of their journey, when all the pair could think of was how they were going to launch their 2011 musical, Chicago, and with sheer willpower, hard work, and a little help from their friends, they rebuilt the set and two days later, they put the award-winning show on at the amphitheater next door.
After that, it took two years before they were able to get back to the business of bringing professional live theater to their audiences, but they have been winning awards ever since.
Good friend, supporter, and pianist Bobbie Stovall was a special guest for the evening and she entertained the crowd with a beautiful medley of holiday music and a jazzy version of Autumn Leaves.
The songs sung by Damien and Nicole were rousing, touching, and the duet, "The World Goes Round," was a showstopper. This was an emotional evening for both Damien and Nicole as they expressed their heartfelt gratitude for all the love and support shown by the community, their fans, and supporters.
The band onstage was lively and rocked the house. The unprecedented cabaret event was a love letter from Damien and Nicole, and although they said that it was a one-time event, the hope is that they revise it and bring it back sometime soon.