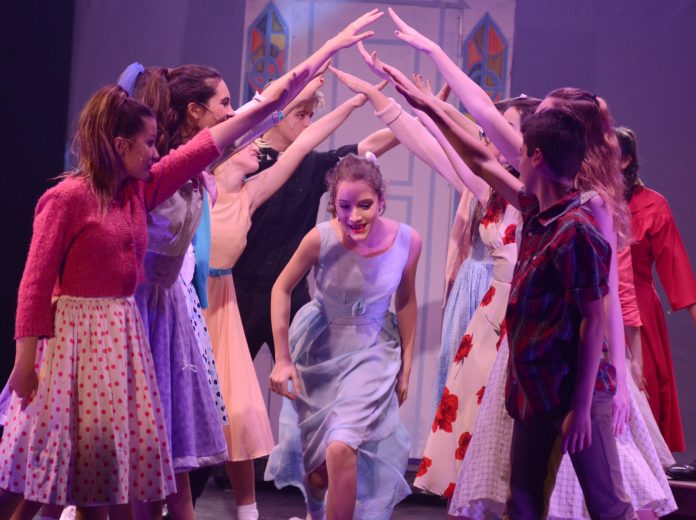 BY ANGELA HATCHER: The electricity in the Gem Theater last weekend was so infectious that it rocked the
house with Musical Theater Academy of Orange County's production of Joe Dipietro's
"All Shook Up."
A rock 'n roll juke box musical with songs that have been beloved by generations is the inspiration for the homage to the undisputed "king," Elvis Presley.
BY ANGELA HATCHER: The electricity in the Gem Theater last weekend was so infectious that it rocked the
house with Musical Theater Academy of Orange County's production of Joe Dipietro's
"All Shook Up."
A rock 'n roll juke box musical with songs that have been beloved by generations is the inspiration for the homage to the undisputed "king," Elvis Presley.
Set on stage and under the baton of Musical Director Richard Abraham, the outstanding four-piece band, featuring Abraham on keyboard, Jeff Segal on drums, Chris Booke on bass and Tony Bernetich on guitar kicked it into high gear and created one of the most exciting rock performances (never masquerading as a concert) in a long time.
Under Vocal Musical Director Taylor Stephenson's and Director/Choreographer Jimmy Hippenstiel's energizing direction, the young teenaged cast of 13–18 year olds thwarted any old-timey clichés with originality, style and a sense of quirkiness that made this production thoroughly entertaining and extremely fun-filled.
In an ordinary day in a quiet mid-western town, motorcycle riding, leather clad, pelvis gyrating, hot looking, free-spirited Chad (Jonathan Haidl) came riding into town, and things got – what you might call – All Shook Up.
With songs like "Jailhouse Rock," "Heartbreak Hotel," "Love Me Tender" and "It's Now or Never" leading the storyline, the show kept its momentum from beginning to end.
Along with his pompadour hairdo, convincing gyration and 1950s dance moves, Haidl gave a stellar performance as Chad. What was not to love about Atticus Korman's portrayal of the nerdy Dennis or Audrey Grace as sweet Lorraine!
Feisty Noelle Howe was a perfect fit as Sylvia, and Rebecca Bailey showed admirable versatility as Natalie/Ed. Gianna Holiday was the sexy charmer as the art museum curator, while Max Ritter as Jim, Mack Hubbard as Dean, and Carley Kuhen as Mayor Matilda were well-casted and gave strong performances.
When Aaron Griffin gave voice to Sheriff Earl, the entire audience became his own personal cheering section. Griffin could make a living as this character. With Elvis' songbook and a fine cast of talented performers, MTA's "All Shook Up" had wide appeal with all generations and was a hit with the younger kids, teenagers, baby boomers and grandparents alike.
One elderly gentleman sitting nearby was overheard saying, "It (this show) makes ya' wanna get up and dance!"
And, guess what? He was right! With the audience on its feet for the encore of "C'mon Everybody," it was well noted that the crowd loved the blast from the past with MTA's talented teens of today keeping this fun-filled musical fresh and alive.
If you missed this "hunk o' hunk of burning love," you won't be disappointed this Friday when another leather clad rock 'n rollin' teen idol, Conrad Birdie, rides into town. MTA's "Bye Bye Birdie" opens at Westminster's Rose Center Theater January 29–31, and just in time for Valentine's Day, The Gem Theater's opens with One More Productions' first show of its new season, the greatest "musical of all musicals," "Funny Girl," in full concert version, February 12– 21.
Featuring timeless hits such as "Don't Rain On My Parade," and "People," the story of Vaudevillian star Fanny Brice is a show not to miss.
For information about Bye Birdie and MTA's season Information, contact Musical Theatre Academy of Orange County at 949 955-3737 or www.mtaoc.org. For Funny Girl and OMP's season information, contact The Gem Theater, 12852 Main St., Garden Grove at
714-741-9550, ext. 221 or One More Productions' website at www.onemoreproductions.com.