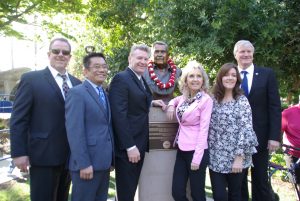 By Loreen Berlin
The City of Garden Grove honored one of its own Tuesday, March 26, as the Bronze Bust of Jack Wallin was unveiled at the Atlantis Play Center.
Wallin not only designed and constructed Atlantis Play Center, he did the same with Garden Grove's  Kiwanisland for the Kiwanis Club, of which he was a member, maintaining Kiwanisland  until his passing last year.
Wallin was co-founder of the Garden Grove Strawberry Festival Association and served as the city's first Park Superintendent.
The bust was sculpted by Garden Grove Azteca Restaurant business owner Jennifer Stewart. Stewart's attention to detail, includes visual representations of not only Atlantis Play Center but his involvement with the Kiwanis Club and Strawberry Festival.
"Jack Wallin was the Godfather of fun who brought a timeless magic to Garden Grove that's lasted for generations and will certainly continue for many more," said Mayor Steve Jones. "His greatest joy was to compassionately do for and to give to others and to see the profound happiness it brought to their lives and this bust is Garden Grove's way of honoring and thanking him for his priceless contributions to our community, in a place that holds so much meaning."
Wallin's son, Steven, said that Jack Wallin attended Pierce College for the Study of Horticulture and also learned from his own father, who was a greens man for the studios in Hollywood.
"In 1958, my dad accepted a job in Garden Grove and moved our family from Santa Fe Springs to a duplex on Garden Grove and Century boulevards, that still exists; later he purchased a new home on the west side of Garden Grove," Wallin said. "Our home was one of his main landscaping jobs, showing the city and everyone else what kind of work he did, from hardscape, masonry, rock work and a variety of plant materials that were not commonly used, along with special electrical features."
The Wallin home was honored in the city's Beautification Program.
Wallin said it was fun going to work with his dad, getting to water the plants and learning plant names from his father and enjoying a stop for breakfast  afterwards with his siblings and father.
"It was nice going inside City Hall and being able to tell people that's where our dad worked," said Wallin. "Dad was also a PTA president and lifetime member, as well as a Boy Scout."
Jack Wallin's goal was to celebrate 60-years with Garden Grove and he accomplished that goal, even riding in last year's Strawberry Festival as the 2018 Garden Grove Strawberry Festival parade Theme Grand Marshal.
Dawn Miller with the Strawberry Festival Association said Wallin was, "A man who noticed the small things but made big things happen" and that Wallin, "Made sure each special-needs child went home with a smile on their face and a tummy full of popcorn, a hotdog and a stuffed animal."
Miller also noted that Wallin started a tradition that continues to date, of hosting a barbecue luncheon for the carnival workers. "This means so much to the carnival people who spend a lot of time away from their families while traveling," said Miller.
Community Services Director John Montanchez said during Wallin's tenure, he helped build six parks and worked on Willowick Golf Course.
"His most notable contribution to the city's parks is the Atlantis Play Center with the 40-foot dragon slide and King Neptune sculpture, which were Jack's work; the impact Jack made in the community will be enjoyed by generations to come and he will never be forgotten."
Last year, Jack and wife Marge were crowned Strawberry Ball King and Queen, honoring their senior volunteerism within the community.