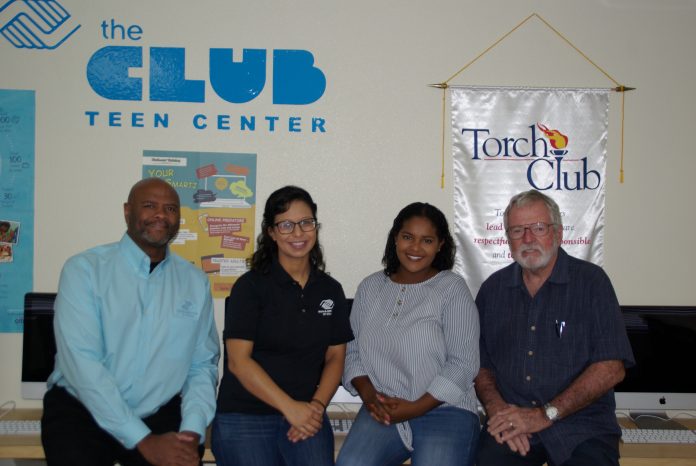 By Loreen Berlin
Jessica Cedillo, 19, came to America from Mexico shortly after she turned 6-years-old.
Just one month later, she began attending elementary school; not speaking one word of English.
"I cried; school was so difficult because of the language barrier," she said. "I used to tell my mom that I didn't need to learn English and that I just wanted to go back to Mexico."
Jessica shared that when she joined the Boys & Girls Club of Stanton in 2006, she met a great staff member, Joanna, who helped her with her homework.
"I gave Joanna a hard-time, knowing she didn't speak much Spanish, but she never gave up on me and she taught me to speak English."
Some six-to-seven months later, Jessica was fluent in English and her grades, as well as social skills, with her classmates improved. After mastering English, she remembers being able to help younger children with their homework at the Club; continuing on with her own Club membership, at the age of 11, she also became a volunteer at the Club.
Board President Brian Donahue said he noticed Jessica helping other Club members with their homework as well as with their English language skills and learned of her background, coming from Mexico and not speaking any English and then going on to help other children at the Club in any way she could.
"She grew to be a responsible teenager and was awarded 'Youth of the Year' twice; we're very proud of Jessica," said Donahue.
"The Boys & Girls Club of Stanton has given me so much support within other areas of my life, that I was able to start volunteering at the City of Stanton, where I now work as a Recreation Leader," she continued. "I truly believe that my passion for community and public service stems from receiving so much support from the Boys & Girls Club, that I want to pay it forward and help my community just like the Club helped me."
In 2015, Jessica was selected as the Club's "Youth of the Year" and she also went on to be selected as "Youth of the Year once again in 2018 and also received the "Community Builder Award" through the "Interfaith Council for Stanton, Garden Grove, and Westminster."
"Jessica has been such a great example of what the Club does; she received our highest award, "Youth of the Year" twice," said Executive Director Elwin Campbell. "She is the only two-time recipient of that award in our 50-year history."
Jessica said in high school, the Club was always there throughout everyone of her accomplishments. "In 2017, Joanna helped me develop a resume to apply to Girls State as a Delegate, which is a leadership program designed to increase awareness and knowledge of governmental processes, while teaching young women about the duties, privileges, rights and responsibilities of citizenship."
She said having the Club's help to get accepted to the leadership program,  "Meant so much
because despite not being a U.S. Citizen, I've always been proud of my community. The
Club was also there as I became my school's Student Body Secretary in 2017, as well
as navigating the pressures of applying for college as a first-generation college student and becoming one of the 'Mariners of The Month' at Pacifica High School in Garden Grove."
Jessica talked about how the Club's staff cheered her on through college rejections and acceptances.
"I want to continue helping others through community advocacy, either in local government or as a high school Spanish teacher. With the support I received from the Boys & Girls Club, I'm able to motivate my younger siblings, ages 12 and 13, to also get involved in volunteer opportunities  in Stanton.
Jessica also took part in the Orange County Sheriff's Department's Explorer Program and was advanced to an Explorer Sergeant. She's a graduate of the Garden Grove Unified School District on the Honor Roll and Principal's Honor Roll at Pacifica High School.
"Jessica is one of the most remarkable teens I have had the pleasure of working with in my 12-years at the Boys & Girls Club of Stanton," said Unit Director Joanna Succar. "She's an inspiration to all, and her potential is limitless; her love for service and community activism is an integral part of who she is. She's a great leader who truly embodies all of the values that our Clubs work so hard to instill in our youth."
"Jessica is such a hard-working, dedicated, active and always pleasant volunteer and a natural-born leader," said Former Stanton Mayor Al Ethans. "We're very fortunate to have her in our city."
From an unsure beginning in America, Jessica not only works for the City of  Stanton as a Recreation Leader but is now beginning her second year at Irvine Valley College, where she's working toward an Associate Degree in Spanish and, Social and Behavioral Sciences, which she will achieve in May of 2020.
What's next for Jessica? This Fall, she plans to apply for a transfer for the next school year to pursue her Bachelor of Arts in Spanish.
For Boys & Girls Club information, call 714-891-0740.