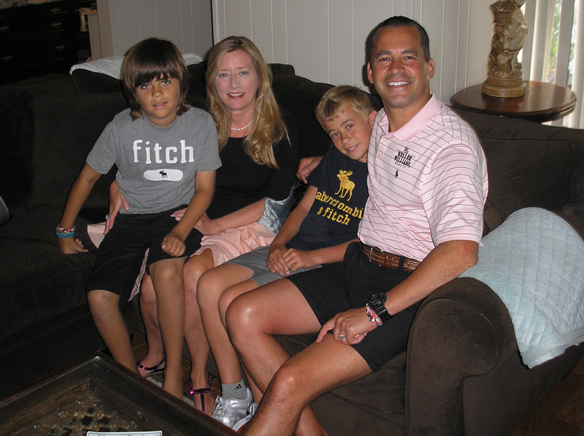 Imagine being 10-years-old and told you can't play in a park or at school due to a life-threatening illness. You've walked into the reality of Kai Quinonez of Rossmoor. The vibrant fourth grader of Hopkinson Elementary School lives with Aplastic Anemia, and is only one of a million children known to have the rare disorder. Kai has spent most of the last two years in-and-out of hospitals, undergoing chemotherapy and blood transfusions. Aplastic Anemia can be best described as "bone marrow failure," according to his father, Gus Quinonez of Keller Williams Realty Group, Quinonez Group of Los Alamitos.
"It effects the production of red and white blood cells, causing them to be attacked by a person's own T-cells," his father said. "The only cure for Kai at this point is to have a bone marrow transplant. Until a donor is found, Kai is undergoing a second round of chemotherapy and blood transfusions. He's a real trooper."
The Quinonez family has traveled as far as San Francisco and Milwaukee to learn more about the condition, and has faith that a bone marrow donor or National Institute of Health study can cure Kai.
Until a donor is found, they are hoping the NIH study on umbilical stem cells mixed with either Kai's mother's and father's blood, or his brother's blood, comes out of clinical trials and can be a potential cure, too. Kai's brother, 12-year-old Klaus, is not a match for a regular bone marrow transplant along with his parents.
"The study at NIH looks promising," continued father, Gus. "For the bone marrow or stem cell blood transfusion to work, Kai would have to be in a hospital in Milwaukee for 8 to 10 months, put into isolation, bringing his whole body down through chemotherapy and radiation, killing off the cells he has and injecting him with the new cells." The Quinonez's are working with a world renowned specialist in Wisconsin while Kai is also in treatment at Miller's Children's Hospital in Long Beach.
"Donating bone marrow can be as simple as donating blood," said father, Gus. "You are given medicine for 6 to 7 days to increase and bring stem cells to surface. It takes only an hour or two for anywhere from 1 to 3 days, and is covered by insurance or the National Bone Marrow Registry." Gus is a member of the board of Aplastic Anemia and Myelodysplastic Syndrome. "There is a chance that Kai's illness is developing into Myelodysplastic Syndrome where the body forms blood cells but they are not viable." "Doctors have told us this (Aplastic Anemia) is eight out of 10 times worse than having leukemia," he said.
Kai has just started a new school year, and has been approved by his doctors to take tennis lessons. The boy who once played flag football has to be careful not to participate in any contact sports due to a high risk for hemorrhaging, cardiac arrest, brain damage and death. He also has to be careful not to catch a cold or flu due to his chemotherapy affecting his immune system.
"One of Kai's favorite things is to visit Wahoo Fish Tacos, but he needs to sit outside so he's not exposed to other's colds or viruses," his mother, Beth, said. "The last time we ate out, he ran a 104 degree fever the next day, and had to be hospitalized for two weeks on heavy antibiotics."
"We are very grateful to all the community for their support," she said. "Kai has been visited by his teachers, and works with a tutor at home."
Even the school principal took Kai's brother, Klaus, out to lunch.
The Quinonez family wants to give back by hosting the first annual "School Ghoul 5K Run & Fun Walk" on Oct. 28 to benefit all Los Alamitos schools. The event is being held during Kai's favorite time of year, Halloween, and includes a kid's art contest, music, food, games and a costume contest.
"Kai's school teachers and many other individuals have been wonderful in helping Kai and our family," Beth said. The Quinonez family also has the support of Good Sheppard Presbyterian Church, where they attend services. Although Kai has been in the hospital most of the last two years, with the exception of two to three of months, he remains a typical child who copes well by drawing and writing stories such as "The Red Baron, The Flying Ace," and has even won an award for one of his stories at school. He admires Batman and Spiderman, and hopes to become an actor in a Batman movie someday.
Those interested in becoming a bone marrow donor can do so at www.kaispage.com, which has a link on how to do this. If interested in serving on the volunteer committee "School Ghoul 5 K Run and Fun Walk," call Gus Quinonez at 714-469-6061 or email him at Gus@QuinonezGroup.com.