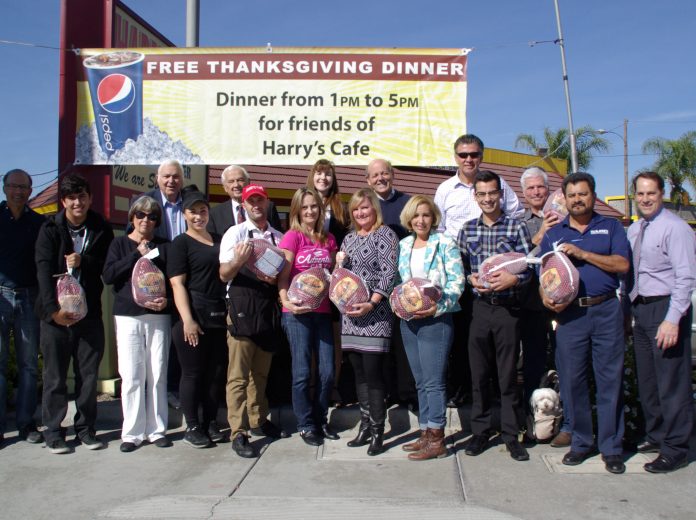 BY LOREEN BERLIN: "This year we have the most donors we've ever had, with our three main donors being Food 4 Less, Sam's Club of Stanton and Walmart Neighborhood Market," said Stanton Councilman David John Shawver.
What was he talking about?
The annual turkey dinner for the needy, of course.
BY LOREEN BERLIN: "This year we have the most donors we've ever had, with our three main donors being Food 4 Less, Sam's Club of Stanton and Walmart Neighborhood Market," said Stanton Councilman David John Shawver.
What was he talking about?
The annual turkey dinner for the needy, of course.
"The turkey dinner is held annually and this will be our largest distribution because we've had many new non-profits, businesses and individuals join us for the first time," said Shawver. He also said they will cook between 150 to 175 turkeys this year and will have 50 volunteers to cook and serve. "This is the most volunteers we've ever had come to help, and it's nice that the Psaras family will be here to help too," he said.
"We've opened this up to the Illumination Foundation, which helps the homeless and we are collaborating with 100 groups with 150 members," he added, "We sent out fliers to schools and churches and we're working with non-profits and service clubs, reaching out to everyone. We're able to feed more people this year because of the generous donations from the community, individuals, and businesses."
Stanton Mayor Al Ethans said, "It's a pleasure and honor to help people who are in need at this time of year."
And it's all thanks to Harry's Café.
Cafe Owner Andreas Psaras said, "We work hard every day to support our families and pay our bills, as part of life, but, by giving this Thanksgiving dinner, to those who need it, it fills our hearts and our souls."
Again this year, Harry's Café is in high gear preparing to serve its annual free Thanksgiving Dinner to local residents who are looking for friendship and wanting a hot meal on Thanksgiving Day.
Harry's Café, 8461 Katella Ave. in Stanton (corner of Katella Avenue and Dale Street), has been serving free Thanksgiving Day meals, with all of the trimmings, to its patrons for two decades and will continue the annual tradition again this year from 1 to 5 p.m. at the above location.
"We want to take the opportunity offered by this holiday season, to extend our gracious thanks to those who have made our progress possible… and to show our appreciation, we invite the needy and lonely and people who have no place to go on Thanksgiving Day, to our annual traditional free turkey dinner," said the Psaras family.
Harry's Café Owners Andreas and George Psaras are hosting the event with donations of turkeys and money by managers and assistant managers from the Mobile Home Parks of Magic Lamp, La Lampara and Parque Pacifico.
In the past, Shawver said when the city gave out turkeys to families in need, they would run out of turkeys, and someone would go without.
"This way, we can feed everyone and not run out of food," said Shawver.
Harry's Café brothers and owners Andreas and George Psaras will again personally cook the more than 175 turkeys, which amounts to more than 1 ton of turkey.
Because of the downturn in the economy, the Psaras's say they continue to expect a large crowd so they're planning enough turkey for more than 3,000 local residents.
The huge venture doesn't just happen; it's coordinated by Shawver, who is also the Stanton Kiwanis Club president and who is helped by a lot of kind-hearted community members and businesses.
"We love being involved with the program," said Nena Delatorre, with Golden Touch Auto Center. "We'll be here next year too."
Councilwoman Carol Warren said Stanton has become a model city for programs that help rehabilitate the homeless.
"Our wonderful Stanton businesses, such as Harry's Cafe, provide all our local people facing hard times and our homeless a great Thanksgiving dinner for free," she said.
"As Thanksgiving nears, it's important to thank those in our lives; but let's not forget 'giving' to everyone around us. With the holidays upon us, let's give a little more and the thanks will follow," said Councilman Rigoberto "Rigo" Ramirez.
How it all started with the Psaras family: One year, the day before Thanksgiving Day, they told restaurant patrons they would be closed for Thanksgiving, according to Andreas Psaras, and that's when their patrons told the Psaras' they wouldn't have any place to go to eat dinner or to have a cup of coffee so, the Psaras family said they would remain open on Thanksgiving Day.
They not only stayed open, the Psaras family cooked turkeys at their home and took it to their restaurant and shared Thanksgiving Day with five other families.
"We came to the restaurant and ate dinner with them and now, we start a week before Thanksgiving Day to cook turkeys at all of our other locations, serving at our Katella Avenue location," said Andreas Psaras.
"Serving dinner to the people makes us happy," Psaras said. "My friend was going to take us to Hawaii for Thanksgiving one year, but no, this has become our tradition."
The Psaras's daughter, Angelena, said she was so young when her family started the family tradition that she can't remember when they didn't have the tradition.
"I was so young, that this is automatically what we do for Thanksgiving," she said. "We bring decorations from home to decorate the restaurant."
Food donors and sponsors include Harry's Café; Councilman David John Shawver and Family; Food4Less; U.S. Cal Builders; Ewles Materials; (LKQ) Pick Your Part; Care Ambulance; Golden Touch Auto – Nena Delatorre and Mehdi and son Kaveh Motadi; Adventure City; Golden State Water Company; Brandywine Homes; Association of O.C. Deputy Sheriff's; Magnolia Center; Larz McAdoo with Parque Pacifico and Carr Mobile Home Park; CR&R; Sam's Club of Stanton; and Wal-Mart Neighborhood Market.