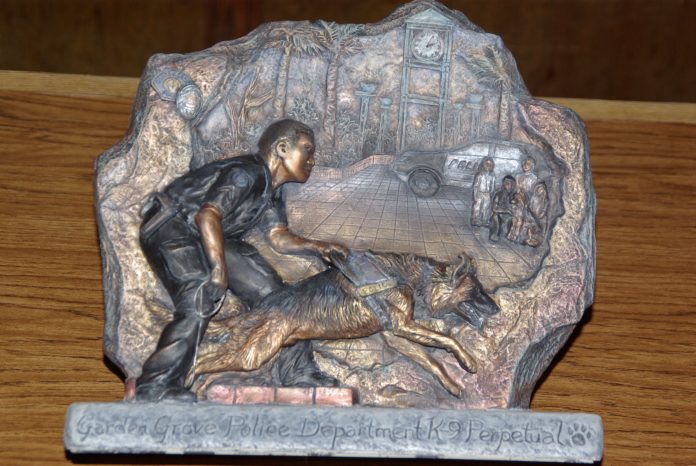 By Loreen Berlin
Jennifer Stewart made a living as a sculptor before her return, five-years-ago, to the restaurant business as new owner of Azteca, a beloved fixture on Historic Main Street.
Azteca, located in downtown Garden Grove, features wall-to-wall and floor-to-ceiling Elvis memorabilia for Elvis fans to enjoy during lunch, dinner and weekend Karaoke nights.
But while all the décor inside the restaurant itself is dedicated to the memory of "The King," the bar area inside Azteca has always featured a wide variety of other classic-music references and memorabilia. It's there you'll find where Stewart's love of art and her obsession for classic-rock-music intersect within the ongoing installation of her "Iconic Album Covers" series.
The original wall-relief sculptures are back-lit with color-morphing LEDs and celebrate a variety of music icons. The collection of sculptures includes The Beatles' "Abbey Road";  Madonna's "True Blue"; and the latest, a tribute to the heavy metal band "Metallica."
So, what's next?
As a way of giving back to the city, Stewart is creating a bronze police K-9 monument. The bronze statue will feature stalwart four-legged officers and their handler officers who serve so diligently. The monument will feature a life-sized, detailed study of human and canine officers spotlighting the necessary trust and special bond of the K-9 team.
Behind the lifelike figures, on the large anchoring wall, will be a rendering of the city's clock tower and a close-up rendering of the various police badges throughout the years.
The flat, vertical wall on the back of the sculpture will memorialize K-9 officer teams from the past, present and future with small placards. More names will be added over the coming years as the K-9 officers serve and are retired.
In 2020, Garden Grove will celebrate the 50-year anniversary of adding K-9 police officers to the police force. After decades of service, Garden Grove's policing is being contracted out to the Orange County Sheriff's Department.
Stewart's sculpture will be displayed at the department, at a place to be determined.
Stewart said her sculpture is a way to honor and thank Garden Grove police officers for their tireless and continued service to the community, a community that so many long-time residents have called home since the city was formed.