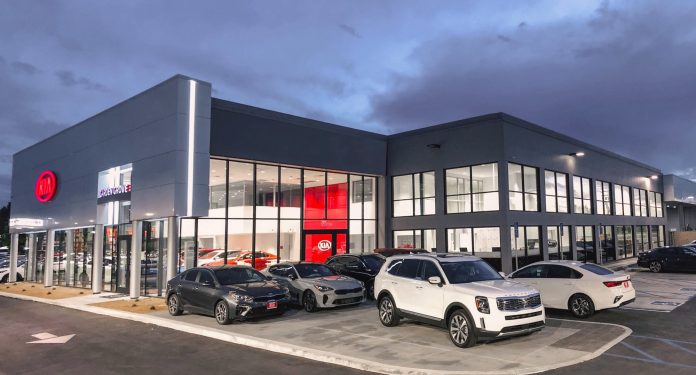 By Loreen Berlin
KIA of Garden Grove has moved from Garden Grove Boulevard to 13731 Harbor Blvd. in Garden Grove.
Although KIA has been open at its new location for a few months, the Garden Grove Chamber of Commerce felt it would be a nice honor to orchestrate a ribbon-cutting ceremony for them, which took place Oct. 24, where city officials and KIA representatives were in attendance.
"It has been an exciting experience for me to witness the progress of our Garden Grove KIA dealership since 2010, and really, the KIA brand in general," said Mayor Steve Jones. "It was a good decision for KIA to set up shop within the Korean Business District nearly 10-years ago and the move to Harbor Boulevard is great as well."
Jones said that the KIA Dealership is yet another example of the strong partnerships that Garden Grove builds with its businesses, and the success that's achieved from mutual collaboration.
"This is also an example of the potential that lies on Harbor Boulevard, south of the 22 Freeway, as this location offers a number of advantages, which includes close freeway-access, walkability, and public transportation on one of our city's most traveled thoroughfares," said Jones. "My hope is that in the near future, that our Grove District Anaheim Resort, just north up the road, will continue growing in this direction, south of the 22 Freeway."
Jones also mentioned that, recently, Garden Grove broke ground for a Home2 Suites by Hilton, up the street on Harbor Boulevard, "Which represents the city's first hotel to be built south of the Garden Grove Freeway.
"Both the brand-new hotel, and the beautiful new KIA dealership are terrific additions to our city's District 6, represented by Councilwoman Kim Nguyen, so kudos to my colleagues on the wonderful new projects," Jones added. "Also, it's my understanding that in the last few months, the new KIA location has shown positive results, which is great for KIA, and of course, for Garden Grove — and of course it's my hope the successful trend will continue in our city,  now, and far into the future. Congratulations to Garden Grove KIA President Jared Hardin and the entire KIA family, as well as to Assistant City Manager/Community and Economic Development Director Lisa Kim and her staff, and everyone who has made today possible. Thank you."
Lisa Kim served as emcee for the ribbon cutting.
"We wanted to celebrate KIA's successful move to its new location," said Kim. "Garden Grove has had the privilege of working with the Hardin ownership for the KIA brand since its arrival in 2010. The original KIA dealership, which was on Garden Grove Boulevard, took over the location from their counterpart, Garden Grove Hyundai, when Hyundai moved to Trask Avenue and for nearly a decade, KIA has proven to be a great producer and valued partner for Garden Grove."
Kim thanked the Garden Grove City Council and City Manager Scott Stiles for their support and also thanked members of the Economic Development team for their work in making the move possible, specifically.
Additional guest speakers included Garden Grove KIA President Jared Hardin and KIA Motors of America Vice President of Sales Bill Peffer.