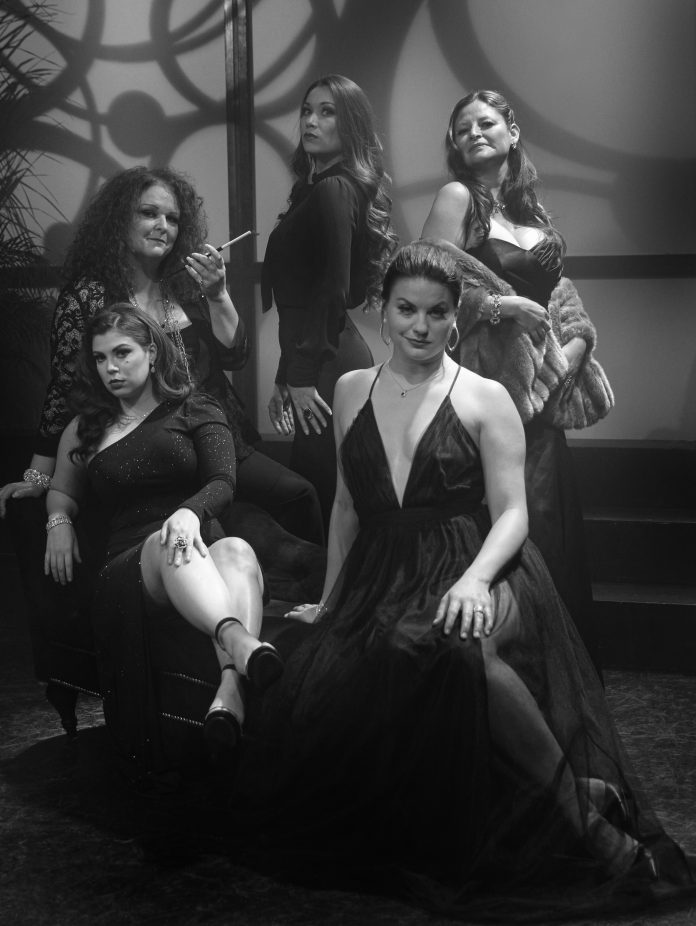 By Angela Hatcher
One More Productions takes on the 1982 Tony Award-winning provocative musical, "Nine," which was originally based on Director and Screenwriter Fellini's classic 1963 semi-autobiographical film 8 ½.
With book by Arthur Kopit and music and lyrics by Maury Yeston, Nine follows the journey of celebrated and flamboyant Italian film director Guido Contini, who is tumbling head -first into a major mid-life crisis as he is turning the big 40.
He is desperately trying to resurrect his failing career with three recent flops blocking his view, and he is bereft for an idea for his new film even though he has signed a contract that could end his teetering career if he doesn't come through.
Wait! There is more… he has a devoted wife, a naïve mistress, and a bored leading lady to deal with as well.
He may be turning 40, but emotionally, he is a mere child of 9 with mom in tow, and the lines are blurred between reality and his inner self. Guido's compulsive nature and unbridled sexual desires are some of the barriers he has placed before him. He is out of chances unless he is willing to face life head-on and ultimately face the music.
And, yes, then there is the music. Skillfully led by Co-founder/Director/Musical Director Damien Lorton, one of One More Productions' greatest gifts to its audience is its magnificent rendering of Nine's beautiful, award-winning score.
With its outstanding 22-piece live orchestra (conducted by Adrian Rangel-Sanchez) on stage and the exquisite vocal talents of the 19 utterly irresistible women of Nine, along with the good-looking Guido himself (Ian Michaels), OMP's Nin eis one of its best works.
Lorton says he has compiled "…15 years of leading ladies in one show," and each one of these talented stars gives a show-stopping performance. As Guido muses on this symphony of beautiful women throughout the show, time and space disappear. Some favorite moments are Luisa's  (Nicole Cassesso) "My Husband Makes Movies"; Carla's (Brittany Gerari) "A Call From the Vatican"; Liliane Le Fleur, Stephanie Necrophorus, and Company (Beth Hansen, Megan Walker, and Co) "Folies Bergeres"; Guido's (Michaels) "Only With You"; Sarraghina, Little Guido, and Company's (Adriana Sanchez, Eliot DeLucia, and Co) "TiVoglio Bene/Be Italian"; and Luisa's (Cassesso) "Be On Your Own."
Brittany Gerari's eye-popping animalistic depiction of the Italian mistress Carla is sensual and mistress-worthy!
Beth Hansen's Le Fleur is so good that Hansen literally owns the role. Erika Baldwin's Claudia is in command and it's easy to see that Claudia has earned it. Nicole Cassesso's Luisa has all women filled with love for her wittrue heartfelt compassion for anyone who has ever been in OMP's Co-founder, Producer, and as Nine's Luisa, Nicole Cassesso says that working with this cast has been like forming a sisterhood that is an amazing experience (and, then, of course there is Guido)!
The camaraderie and closeness of this cast evokes that energy on stage, and the One More Productions' Nine is a winning combination of talent, hard work, and performance, and in the end, it is simply stunning.
"Nine"
The Gem Theatre
12852 Main St.
Garden Grove
714-741-9550
Runs through May 19