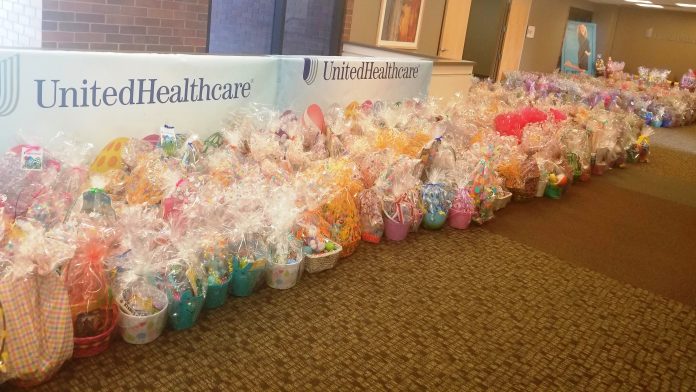 More than 750 Easter baskets were assembled and delivered to seven nonprofit organizations in Los Angeles and Orange counties by UnitedHealthcare employees this week.
One of those organizations was Thomas House Family Shelter in Garden Grove.
The handmade Easter baskets were also  delivered to families and kids at the Boys & Girls Club in Cypress, Olive Crest Foster Care Agency in Bellflower, Casa Youth Shelter in Los Alamitos, Anaheim Independencia Family Resource Center in Anaheim, Women's & Children's Crisis Shelter in Whittier, and the Walter Knott Education Center in Buena Park.
Employees and volunteers donated and assembled the Easter baskets at UnitedHealthcare's Cypress campus, and then personally delivered the baskets to the seven nonprofits.  Inside each basket are items including healthy snacks, treats, sports equipment, art supplies, crafts, stationery, gift cards, stuffed animals, toys and games.
This is the 14th year that UnitedHealthcare employees in Orange County have donated, assembled, and delivered the baskets.
"UnitedHealthcare is grateful for the opportunity to create and deliver these baskets, and bring Easter cheer to so many children in our community," said Rob Falkenberg, CEO, UnitedHealthcare of California.  "This Easter Basket Drive continues to generate excitement and enthusiasm among our employees and is one of the many ways our employees give back, help others and make a difference."