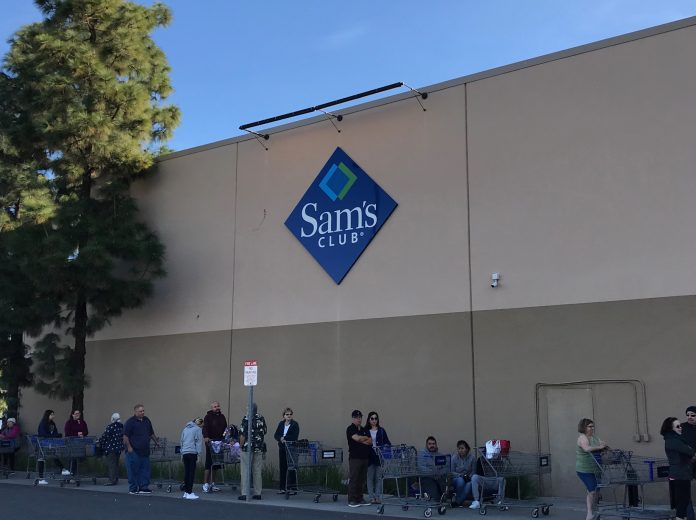 BY BRADY RHOADES: Hundreds of locals lined up outside Sam's Club on Beach Boulevard in Stanton as early as 6 a.m. Monday morning, waiting for the store to open at 10 a.m. so they could take advantage of a 25-percent-off sale.
It's small consolation for devastating news: Sam's, at 12540 Beach Blvd., is one of 63 Sam's Clubs in Southern California and hundreds nationwide that Wal-Mart Stores Inc. will be shuttering, Wal-mart Stores announced last week.
Most of the employees will be laid off. Some might be relocated, Walmart officials said. The Stanton store closes on Jan. 26.
"We love this store," said Lore Chumacero, a regular customer and Garden Grove resident. "I feel upset. It's so close."
"I live right across the street," said Garden Grove resident Daniela Perez. "Now I have to shop at Costco."
Up to 12 of the impacted locations will be converted into e-commerce fulfillment centers, the company said, to better serve the growing number of Sam's Club members who shop online. The first of those conversions will be in Memphis, Tenn.
The retail chain, which competes with Costco, has more than 650 locations that employ more than 100,000 people. Each Sam's Club has an average of 175 employees, according to the company.
Management and employees at the Stanton Sam's Club declined to comment.
Customers, lined around the building, were not so reticent.
"I feel bad because it's close to my house. My wife can't drive," said Garden Grove resident Erik Sanchez.
For the Sanchezes, that means Erik will have to pick up his wife after a long day of work, and drive her to a new shopping locale. The other option is for him to shop with her on weekends.
One Stanton woman, holding her 1-year-old baby and asking to remain anonymous for safety reasons, said, "It's an inconvenience. I like it here because there are smaller portions."
She said Costco's bigger portions — larger jugs of milk, for instance — don't make sense for her, her husband and their two children. Milk, and food, inevitably end up going to waste.
Meanwhile, she was opportunizing on the sale.
"I'm here for the diapers," she said.